Beets,Recipes
Beets are a multi-season crop and we grow them continuously spring through fall. I love how versatile they are and how their earthly flavor is delicious paired with other seasonal crops.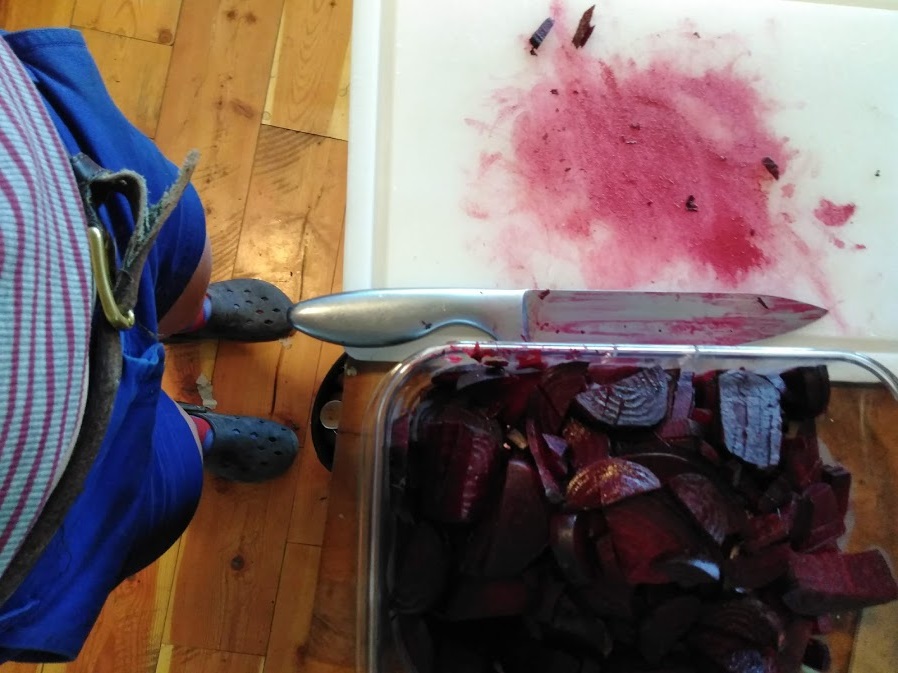 We grow ALOT of different types of beets at the farm:
Baby Beets
We will usually include these in CSA once a year and take them to market 2-3 times in the spring.
We like baby beets with the tops removed, cut in half, and boiled until tender. Wonderful topped with spring dill. Sauteed baby beet greens have an amazing vitality and flavor.
Jay's Grammy O'Connell prepared this boiled whole with the tops on, serve topped with ; I find this overcooks the tender greens a bit too much but I like traditional family recipes so I sometimes make it.
When they are small I don't peel beets; I just cut them in half and roast in butter in the oven until soft.
Candy Cane Beets
Candy Cane, 'Chioggio' Beets, are a stunning show stopper.
Similar in flavor to red beets with a less 'earthy' flavor. Not quite as sweet as golden beets.
Stunning thinly sliced or grated raw. TAKE NOTE! Candy Cane Beets brown more quickly than golden and red beets so slice/grate immediately before dishing up.
Favorite for making Beet Kvass they give the kvass a beautiful color with a less intense earthy flavor (aka... less like drinking dirt).
Golden Beets
Not only are these beets sweeter and mellower than their equally delicious red cousins, they don't stain your counter tops and hands. Of course, they are delicious roasted (few veggies aren't), but they also shine when grated raw over a salad made with your baby romaine or lettuce mix.
Is there anything golden beets aren't good for?
These delicious gems should not be used more make borscht. I've forgotten this multiple times and end up with a really ugly soup.
Red Beets
Once some summer heat has finally arrives in Montana, these can be steamed, sliced and added to salads throughout the week--especially if there's some gorgonzola and toasted pecans involved!
More Recipes:
Oven Roasted Root Vegetables Renee Nicole's Kitchen
This incredibly beautiful recipe walks you step by step through making an exceptionally beautiful roasted root medley with a mandolin and honey brown butter sauce. Perfect for a holiday or celebration meal.
45 Beet Recipe Gallery Epicurious
Some Serious Beet Inspiration!
Classic Borscht Bon Appetit Magazine
Garlic Scape, Beet, and Quinoa Salad.pdf
Lacto-fermented Turnips and Beets.pdf
cooking101,roastedvegetable.pdf
Cooking 101,Bitter Greens.pdf
Spicy Roasted Beets with Wilted Greens.pdf